Sonnagar- Dankuni Section of Eastern Dedicated Freight Corridor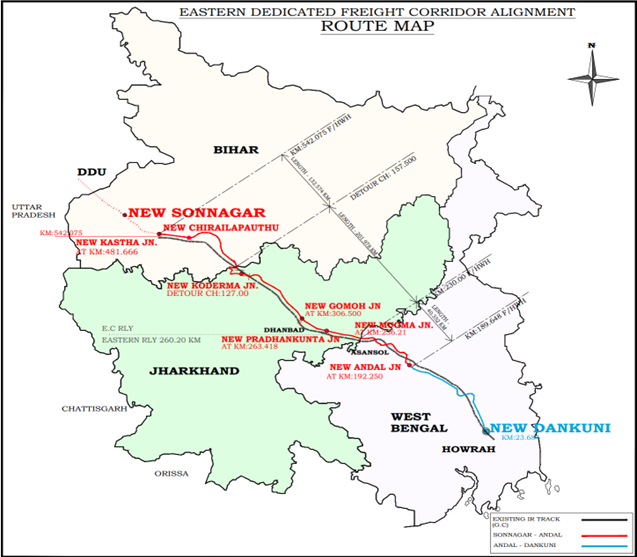 The Sonnagar- Dankuni Section is a part of Eastern Dedicated Freight Corridor stretching 538 km traverses through three states, namely Bihar, Jharkhand and West Bengal. It passes over two zonal railways, namely East Central and Eastern Railway.

The section is planned to be developed in two phases. Sonnagar- Andal section, Phase-I (375 Km) for which funding arrangement is under approval of Railway Board. This section has two detours. One detour is planned at Gaya of length 13 Km and another detour is planned at Koderma of length 57 Km. There are 6 junction stations (New Kastha, New Koderma, New Gomoh, New Pradhankanta, New Mugma and New Andal) and 04 Crossing stations (New Rafigunj, New Paharpur, New Hirodih and New Keshwari) & one Cabin at New Kalipahari in this section.

Andal – Dankuni section, Phase-II (163 Km) will be taken up after finalization of scheme for Sonnagar- Andal section.

Traffic Potential:
The major traffic generators which will be contributing to Sonnagar- Andal section is mainly Coal, Container, Steel, Food grains, Cement, POL etc.