Introduction:
The Eastern Dedicated Freight Corridor with a route length of 1856 km consists of two distinct segments: an electrified double-track segment of 1409 km between Dankuni in West Bengal & Khurja in Uttar Pradesh & an electrified single-track segment of 447 km between Ludhiana (Dhandarikalan) - Khurja - Dadri in the state of Punjab, Haryana and Uttar Pradesh. Due to non - availability of space along the existing corridor particularly near important city centers and industrial townships, the alignment of the corridor takes a detour to bypass densely populated towns such as DDU, Allahabad, Kanpur, Etawah, Ferozabad, Tundla, Barhan, Hathras, Aligarh, Hapur, Meerut, Saharanpur, Ambala, Rajpura, Sirhind, Doraha and Sanehwal. Since the origin and destinations of traffic do not necessarily fall on the DFC, a number of junction arrangements have been planned to transfer traffic from the existing Indian Railway Corridor to the DFC and vice versa. These include Dankuni, Andal, Gomoh, Sonnagar, Ganjkhwaja, Mughalsarai, Jeonathpur, Naini/Cheoki, Prempur, Bhaupur, Tundla, Daudkhan, Khurja, Kalanaur, Rajpura, Sirhind and Dhandarikalan. The Eastern Corridor will traverse through 6 states.
Eastern Corridor is projected to cater to a number of traffic streams-coal for the power plants in the northern region of U.P., Delhi, Haryana, Punjab and parts of Rajasthan from the Eastern coal fields, finished steel, food grains, cement, fertilizers, lime stone from Rajasthan to steel plants in the east and general goods. The total traffic in UP direction is projected to go up to 116 million tonnes in 2021-22. Similarly, in the Down direction, the traffic level has been projected to increase to 28 million tons in 2021-22. As a result, the incremental traffic since 2005-2006, works out to a whopping 92 million tons. A significant part of this increase would get diverted to the Dedicated Freight Corridor. The following table depicts the distance traversed through each state.
Statewise Route length

Punjab

88 km

Haryana

72 km

UP

1078 km

Bihar

239 km

Jharkhand

195 km

West Bengal

203 km
Traffic Projections:

As per RITES project report, the traffic that would move on the Eastern DFC, excluding the base year traffic (2005-06), is projected as below
PROJECTIONS ON EASTERN DFC (in million tons/year)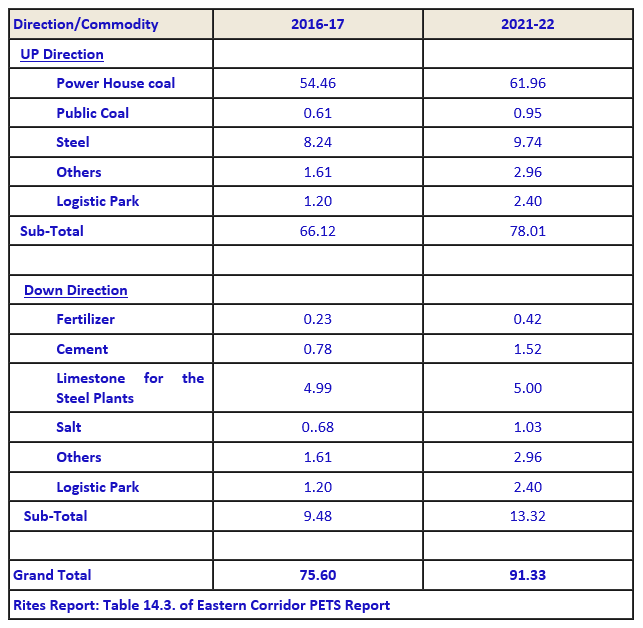 It is also proposed to set up Logistics Park at Kanpur in U.P. and Ludhiana in Punjab. These parks are proposed to be developed on Public Private Partnership mode by creating a sub-SPV for the same. DFCCIL proposes to provide rail connectivity to such parks and private players would be asked to develop and provide state of the art infrastructure as a common user facility.
Alignment Layout:
Ludhiana - Khurja - Dadri Section